Roasted Curry Chicken with Root Vegetables Purée | How To Make Roasted Chicken At Home
Craving a delicious and flavorful home-cooked meal? Look no further than our curry chicken recipe, served with a delightful root vegetable purée. This tender, oven-roasted chicken dish infused with curry powder and accompanied by a creamy purée made from garlic, carrots, and celeriac or parsnip is perfect for a cozy family dinner or to wow your dinner guests. Read on to learn how to prepare this mouthwatering meal at home.
Preparing the Root Vegetables
Begin by prepping the vegetables for the purée. Gather a few garlic cloves, some celeriac or parsnip, and a handful of carrots.
Clean all the vegetables thoroughly and chop them into large pieces.
Arrange the vegetables on a baking tray, drizzle with olive oil, and mix well.
Roasting the Curry Chicken
Massage the curry powder and salt into the chicken, making sure to cover all sides.
Place the seasoned chicken atop the prepared vegetables on the baking tray.
Roast the chicken and vegetables in a preheated oven at 200°C (390°F) for approximately 1 hour and 30 minutes, using the cooking times guide provided in the original text to adjust for different chicken sizes.
After the initial roasting time, add a few pats of butter on top of the chicken and increase the oven temperature to 250°C (480°F). Roast for an additional 10-15 minutes to achieve a crispy skin and ensure the chicken is cooked through.
Creating the Root Vegetable Purée
Once the chicken is cooked, remove it from the oven and let it rest for about 10-15 minutes.
In the meantime, transfer the roasted vegetables and any accumulated juices to a pan. Add a splash of water if needed, then cook with the lid on for about 10 minutes, until the vegetables are tender.
Blend the cooked vegetables into a smooth purée. For an even silkier texture, pass the purée through a sieve.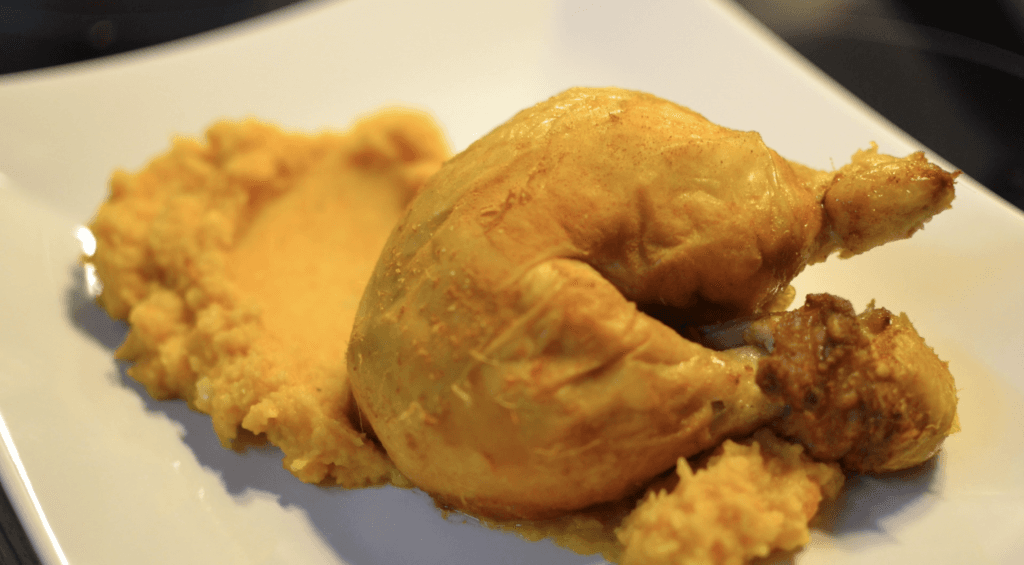 Curry chicken
Serving the Dish
Serve your scrumptious curry chicken alongside the velvety root vegetable purée for an unforgettable meal that will delight your taste buds. Enjoy!
Conclusion
This curry chicken with root vegetable purée recipe is a testament to the wonderful flavors that can be achieved with simple ingredients and cooking techniques. It's an excellent option for a satisfying, home-cooked meal that will impress your family and friends alike. So, gather your ingredients, preheat your oven, and start cooking up this delicious and satisfying dish today!