Czech Pork Goulash Recipe | How to Cook Authentic Czech Goulash | Goulash Recipe
I was born in Eastern Europe and goulash was always staple food in our kitchen. I would like to show you goulash recipe that my mother and grandmother used to cook.
Secret lies in 1:1 ratio of meat:onions. Chopped onions are overcooked in 2 hours, they fall apart, add flavor to goulash and make it thicker. There is no need to use flour to make delicious goulash stew.
Also it is worth choosing fatty meat like pork hock or shoulder over lean meat because it will release much more flavor and fatty meat will be much tender. But if you are looking for lower fat content feel free to use pork loin or any other low fat meat. I saw people making goulash even from chicken and it was great. Anyway higher fat content is OK because there are only few carbs in 1 portion of goulash.
Traditional Czech Goulash recipe also have only natural ingredients and is very great for Paleo diet and can be also used in low carb diet. There is about 20g of carbohydrates in 1 portion of goulash, carbs here are only from onions and tomato paste.
But goulash is not all about meat and onions there is 3rd essential ingredient - sweet paprika which gives goulash that red color and adds another layer of flavor. It is possible to make goulash only from these 3 ingredients but you can add other ingredients to "improve" the flavor.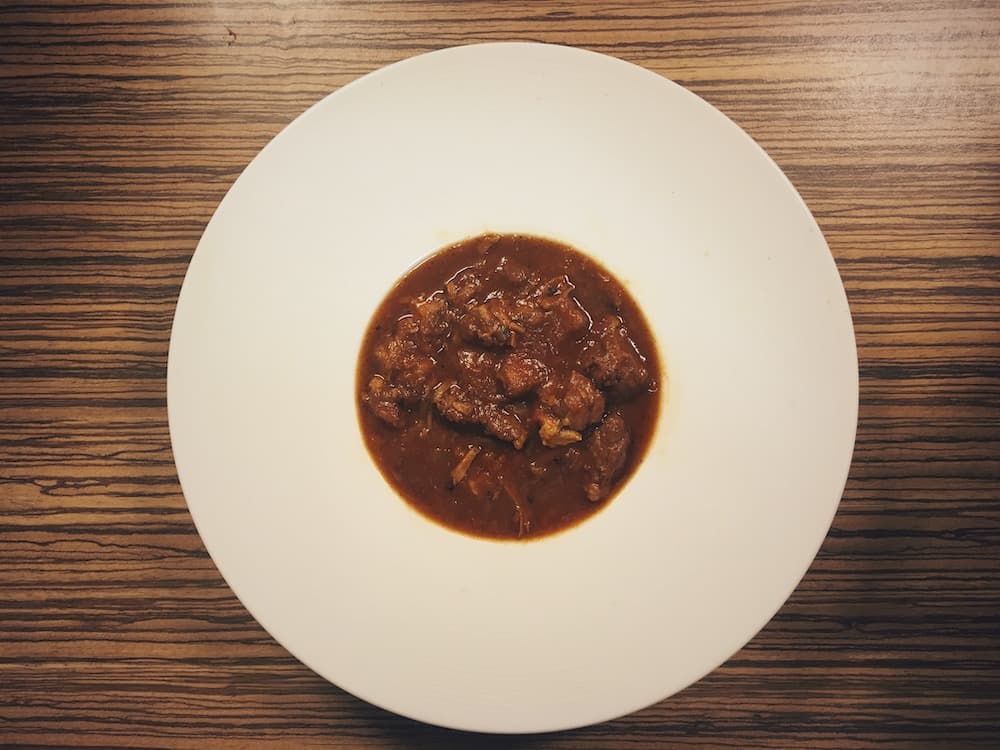 Czech pork goulash
For goulash spice mix I have used following ratio:
6 Sweet paprika
2 Onion powder
2 Garlic powder
1 Allspice
1 Black pepper
1 Salt
1 Cumin
Feel free to adjust it as you like or you can even buy goulash spice mix in grocery store just make sure to read ingredients and try to avoid anything unnatural.
Water or beef stock? Goulash can be made from both, traditionally we use water and cook it slightly longer + use more spices but I am fan of using beef stock which makes its flavors more richer.
If you are watching your carbs just enjoy this goulash as is but if you are looking for authentic Czech goulash experience serve it with dumplings or fresh bread.
Cooking cauliflower rice is very easy all you have to do is to cover cauliflower with just enough water and bring it to boil for few minutes. I've cooked it for exactly 4 minutes but you can adjust that time. Make sure you are tasting cauliflower during cooking because you are aiming for soft but not overcooked cauliflower.
Just be careful when cooking it because grated cauliflower will overcook pretty quickly and cooking it for very short time will leave you with raw cauliflower which is also great but cooked will taste better.
Cauliflower rice is great classic rice substitute and it can be served with almost anything from curries, meat & veggies mix to steaks or pasta sauces. If you are looking for some inspiration make sure to check my YouTube channel.