Classic Meatloaf Recipe... It Cannnot Be More Simple | The Best Meatloaf Recipe
Oh, good old classic meatloaf one of my very favorite meals made from minced beef. You can eat it still hot right at the moment you took it from the oven or you can leave delicious meatloaf in the fridge for next 2-3 days and eat it cold. There is nothing better than opening fridge next day while still having some leftover meatloaf and eating it cold together with pickled onions and little bit of mustard.
There are many ways how to cook meatloaf but if you want to make the best meatloaf you will need to master the basics.
The most improtant thing is to have fresh minced beef if you have meat grinder make your minced beef at home. If you don't have access to meat grinder I would recommend you to visit local butcher and ask him if he can make you freshly minced beef. Or you can buy it at local grocery store but make sure you will look at expiry dates and choose the ones that last the longest (they are usually back on the bottom).
If I can I am always making my own minced beef but if I have to take one from supermarket I will look for one which has 10% off fat. Also make sure you are reading labels so minced meat will be made from 100% meat. There are some products that may have only 80% or less meat content.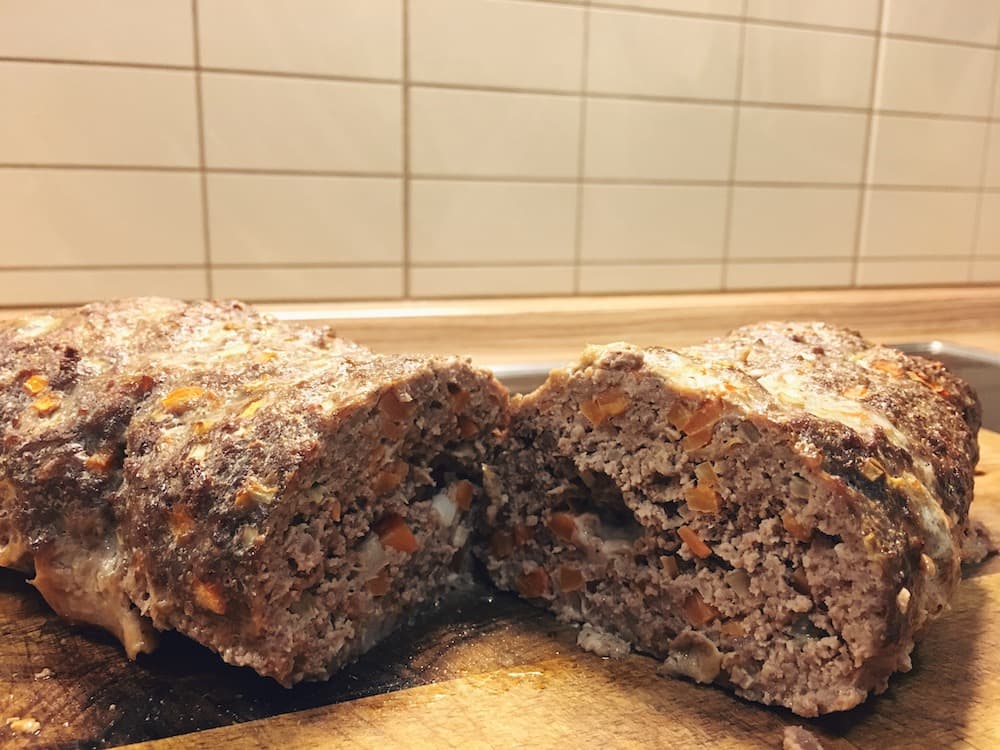 Meatloaf
Next very important thing when cooking meatloaf is to bond it together with something. If you are using only fresh meat you don't need to add anything because it will hold well together but if you are planning to add veggies into meatloaf than you have to bond with something.
I prefer to use one egg for each 1 lbs / 450g of minced beef which adds even more protein and healthy fats into meatloaf. Another ingredient you can use to bond it together are oats or flour but I prefer to not add any extra carbohydrates to the meatloaf and keep it gluten free (gluten free oats are also great alternative if you don't mind about carbs).
And the basic meatloaf recipe is ready! Just mix your minced beef and eggs, add salt & pepper and bake it for 40 minutes at 390°F / 200°C, turn off the oven and let it rest for 10 more minutes in the oven.
There are many ways how you can improve meatloaf recipe. I have chosen to cook one of the classic recipes with finely diced carrots, celery and garlic but some people make it with bacon, cheese, zucchini, cabbage, rice or even with pork sirloin and other ingredients.
I have also decided to not put anything on the meatloaf. Usually meatloaf is covered with tomato paste, ketchup, mustard or even with honey or wrapped into pork casing.