Sweet Blueberry Egg Omelette With Greek Yogurt | How To Make Sweet Egg Omelette?
Making sweet omelette is very easy. All the magic is in putting Greek yogurt on top of the regular omelette and topping it with favorite low carb fruit. Low fat Greek yogurt adds some extra proteins to the food and making it smoother while berries adds that extra sweetness to the eggs.
There are few things you would like to consider before cooking this omelette to make it healthy.
First try to use fruits that are lower in fructose like blueberries, strawberries, blackberries and others. You can also make eggs with bananas or apples like I did in my recipes before but it won't be as fit as if you would use berries for your omelette.
Next thing is the yogurt. When choosing correct Greek yogurt I prefer to choose one which is low fat but high in proteins. I am a fan of high fat Greek yogurt but low fat one with high proteins suits much better to this recipe.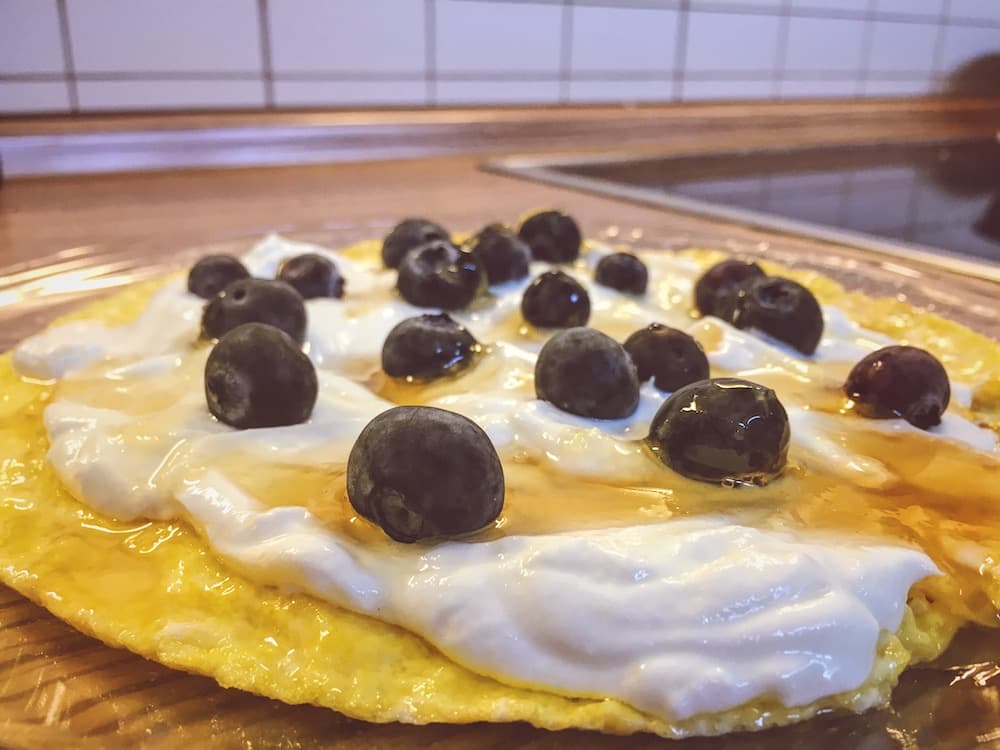 Sweet Blueberry Egg Omelette With Greek Yogurt
Recipe already has enough fats from eggs and the butter (which is not bad, you need to get energy from something) but when using only 3 eggs you will get only about 21g of proteins which is not much. That Greek yogurt adds nice extra 15g of proteins to this egg omelette.
And the last thing you should consider, should you use honey/syrup/...? It all depends on what are your goals, if you are not very serious about your diet than 1 teaspoon of honey would help you to kill the sweet tooth. But if you want be strict with your diet I would recommend to just sprinkle some cinnamon, cacao powder or coconut flakes over your sweet omelette.